September 29, 2015
Storytelling Through Your Photos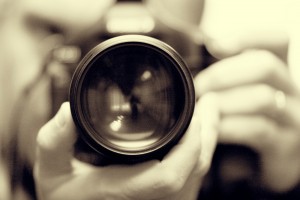 Our brains process pictures 60,000 times faster than text. Today, photos and images on websites and collateral are bigger than ever, both in terms of usage and space. Images drive the readers' eyes to read the story. Your website should tell the story of your unique brand and using unique photos helps to communicate your story. Can stock photography deliver that unique story? Not always, but custom photography can.
Many companies hesitate to spent the dollars on custom photography when they can opt to use stock photos. Stock photos are easily accessible and more affordable, but are not always a fit especially if you are a professional service firm selling your talents. Prospects want to see the people they will interact with.
The benefits of incorporating custom photos into your brand will likely outweigh the initial dollars saved by going the stock route. Here's how:
Brand Consistency: Custom photos are taken with the purpose of expressing your brand's essence. They are unique, not the same generic stock images that you see over and over. This builds credibility and trust. With use of customized photos, your images will look integrated within your marketing materials vs. stuck-in and generic.
Showcase your team, products, and location: Custom photography will personalize your site by introducing your team, helping you emphasize your customer service, highlighting your actual products, and giving potential clients the unique feel of your location. Your people, products, and workspace are all critical elements of what builds your business.
Images can be re-purposed: Having custom images on file will come in handy. You can use them for more than the initial project. You will have a handful of images to utilize for all marketing materials including ads, brochures, flyers, trade show graphics, etc.
Now, there are times when stock photography does make sense. Stock photos are great to use in support of your content when needed, but that's just it: stock should be used as supporting imagery, not primary images.
At Winnow Creative, we recommend a custom photography shoot. You will be amazed at how much imagery a half-day or full-day shoot can capture—all to be used for telling your unique story.