February 17, 2021
Winnow Winter Website Launches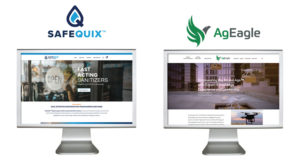 Our Winnow team recently launched two new websites; SafeQuix Sanitizers and AgEagle Aerial Systems Inc. 
SafeQUIX came to Winnow in its infancy in need of professional branding as well as an e-commerce website to help sell their line of new antiseptic products. SafeQUIX is a line of fast-acting, alcohol-based sanitizing products located in Youngsville, NC. Renowned for being the printer's first choice in litho plates and pressroom solutions, Southern Lithoplate (SLP) is a parent-company for SafeQUIX and is manufactured regionally in the United States. Their "spray and walk away" formulas have been proven to slow the spread of germs, are methanol-free and contain no 1-propanol. 
Due to the coronavirus pandemic, SafeQUIX has become an essential business and we are proud to partner with them to slow the spread of COVID-19. Ideal for homes, restaurants, hotels, and other places of business, SafeQUIX helps safely prevent and protect. 
AgEagle is one of the country's leading aerial drone solutions companies based in Wichita, KS. A publicly traded company, AgEagle partners with numerous industries and government agencies to offer both manufacturing and aerial solutions. 
We designed a new brand identity and redeveloped their website with contemporary visual designs and unique product videos bringing the brand's storytelling to life. As part of the new identity, a new logo, color palette, and font usage were created. One unique feature of the AgEagle site is the homepage video, which—using drone video, illustrates their markets and capabilities. Winnow Managing Partner Steve McCulloch says, "the homepage visual gives a wonderful image of AgEagle's existing story and the new markets they serve."
Check out our work at https://www.safequix.com/ and https://ageagle.com/.